Marg ERP : Helping Small and Medium Businesses Get Digitalized
SMEs and MSMEs form the backbone of our economy. Post GST in a challenging business circumstances, Indian Small & Medium Businesses have displayed a noteworthy vigor and flexibility by maintaining steady growth which has helped in creating more job opportunities for many and still remains a major reason for the countries development.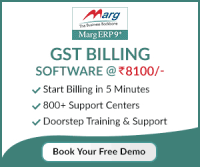 As per the Annual report published by the Ministry of Micro, Small and Medium Enterprises, India has more than 50 million Small and Medium Businesses which is growing at a rapid rate post GST. All these SMEs and MSMEs have a major contribution towards the Indian GDP and has employed more than 100 million people all across India.
Though the Small and medium businesses have a critical role in India's growth story still they have major challenges which have come up post GST. All the small and medium businesses now need to have a strong infrastructure and need to modernize for scoring improved profitability.
The commercial outlook for SMEs and MSMEs is changing briskly with increasing consumer demands. The networking system has transgressed a lot in the last few decades with the rise of digital technologies and advanced consumer base.
How Marg ERP has helped small and medium businesses?
Creating ease for technology adaption, Marg ERP has helped small and medium businesses to take a plunge into online business at the most affordable prices. Marg has also clarified the clear benefits of online business which can cater to a larger geographical market and help in generating much higher revenue when compared with offline counterparts.
With a strong knowledge base provided by more than 5000 GST Seva Kendra across the country Marg has influenced small and medium businesses to cater to a wider customer base who have access via content and via formats like videos.
Marg Suvidha Kendra is providing GST training and knowledge transfer program which is open to all business enterprises irrespective of whether they are using Marg ERP software or not. The GST Kendras has been a key support and has helped small and medium businesses in rapid adoption of Internet and digital technologies and propel them towards growth.