Liability to register under GST:
Every person who is registered under Central Excise Law, Service Tax Law, Central Sales Tax or State VAT Law is liable to resister under Goods and Services Tax Act 2016.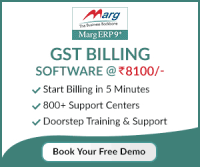 If the person is not registered under any of aforementioned laws and his turnover in
financial year exceeds the taxable threshold is also liable be registered under this Act. The taxable threshold to resister under GST law is 9 Lakhs for North Eastern states and 19 Lakhs in other states of the country.
In this context the turnover means All India gross annual turnover which includes turnover of exempted goods, exempted services and export. If business is done from more than one location and from two or more sates, all such units will be considered for such purpose.
Any person whose turnover is below the taxable threshold can voluntarily apply for registration.
People doing following business are bound to resister under this act irrespective of their turnover.
Interstate supply
Person liable for payment of GST under reverse charge basis
Casual taxable person
Person supply goods on behalf of other person as an agent
Input service distributer
People supplying goods/services through electronic base (supply of branded goods excluded)
Electronic commerce operator
An aggregator supplying goods under his own brand name
Those who are already registered under Central Excise Law, Service Tax Law, Central Sell Tax or State VAT do not need file a fresh application. They will get automatically get a PAN based registration number. Those who are not already registered under aforementioned laws, can get registered within 30 days from the date they becomes liable.
Process of Registration: Anyone liable to register under GST Act, can apply either through GSTN portal or facilitation center. The applicant must have PAN Card to apply for registration under GST.
Once the completed application with required documents is received by GSTN, a message asking for confirmation is sent to the authorized signatory by email and SMS. After the confirmation is received from the signatory, an acknowledge number would be generated and sent to the applicant.
After primary verification GSTN portal sends the application to Central and State authorities. When the details are verified and found correct by the authorities, intimated to GSTN portal. If the details submitted are found to be correct the applicant will be granted registration certificate. If the registration is refused the reason for the will be communicated to the concerned authority.