We are living in unprecedented times. The rapid spread of the Coronavirus; COVID-19 in the past few months has changed our world dramatically. Due to which many of us are now required to stay at home to protect ourselves and others from the spread of the virus.
Nowadays, Businessmen are in dilemma like "How can my business bounce back?", "Should I continue with my business?", "What are the different strategies to be adopted for my business during COVID-19 lockdown?", "How to Manage Finance Post-Corona?" and "How to Transform and Manage my Business to a Digital Business Post COVID-19?"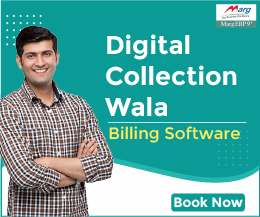 While many businesses are adopting various strategies and encouraging their customers to cope up with the Coronavirus crisis by using contactless payment and contactless marketing wherever possible in order to reduce the unnecessary contact between people during the virus outbreak.
Our Hon'ble Prime Minister of India, Shri Narendra Modi has highlighted the importance of social/physical distancing and urged people to not step out of their homes unless it is of extreme importance.
Basically, when a customer visits the shop for purchasing items then the customer has to face many problems like standing in long ques for billing that increases a person's chances of being infected during the COVID-19 pandemic.
Also, the customers ask for the price of different items, deals and discounts on the items at the billing counter.
Sometimes, the operator at the billing counter is unable to reply to queries of every customer due to which there are chances of losing those customers as they get frustrated and visits another shop to purchase the required items.
This also results in a loss in business as the businessman is unable to push their sales to another level because of losing the customers.
To make the whole process easier, My Shop QRID is helping us to fight back against COVID-19 by making the process contactless and digital.
In order to fight Corona Virus; Marg ERP has designed My Shop QRID to ease the life of 70-80% distributors who are operating in the bunch market and for those whose customers visit their shop by themselves.
QR code-based solution at shops can help to regain the confidence of customers and encourage them to place orders by scanning the QR Code while staying safe and following social distancing.
The use of QR Codes not only incorporates safety,  security and convenience but also takes into consideration to practice social or physical distancing especially during the corona crisis i.e. it aims to help reduce physical interaction.
By using digital technologies like QR Code, it will help the customers to easily scan the QR Code for placing orders & following Social Distancing. This development will facilitate the customers to safely and conveniently pay for the purchased products without having any physical contact and also business owners can receive contactless payments securely and efficiently.
There are lots of benefits of using QR Code. It is beneficial for both customers and businesses. With QR Code you can securely transact business and stay safe.
Some other Benefits of My Shop QRID are:
   

Control the number of visitors in the waiting area

   

Minimize close interactions

   

Reduce wait times

   

Manage visitor flow

   

Easily completes the process of Ordering to Billing by maintaining physical distance
My Shop QRID is hope for SMEs:
Due to the COVID-19 crisis, small and medium-sized businesses will benefit from the spread of digital payment systems based on QR codes.
So, keeping all this into consideration; Marg ERP has introduced a very beneficial option of My Shop QRID for distributors & FMCG trade sector to ensure contactless business i.e. to maintain social distancing during the time of the Covid-19 period.
The distributors and retailers have to simply print the QR code from the software and paste it outside the shop/counter to experience a new way of doing business with ease.
My Shop QRID option of Marg ERP is designed for distributors and retailers for ordering from a safe distance i.e. It is basically developed for distributors who sits in the bunch market, but the retailer can also take the benefit of this feature and also those distributors can use this feature whose customers visits their shop by themselves.
My Shop QRID enables the customer to easily scan and view the items which are available in your shop along with the relevant information like Schemes, rate, MRP etc. & can further place/generate the order as per their requirement without speaking anything and by completely following the guidelines of physical distancing.
Once the customer has generated the order then a token number will get generated. As the businessmen/shopkeeper will enter that token number in Marg Software then the order of that customer will get generated in the bill.
With the help of this feature, the entire process from ordering to billing gets completed in just a few seconds without speaking anything or having any physical contact with anyone. Also, in this way the customers can solve all their queries by themselves.
This will also eliminate the risk of spreading the infection.
We can say that Digital technologies are playing a very pivotal role during the COVID-19 pandemic by reducing the spread of the coronavirus and keeping the business operations to run smoothly in a time of lockdowns and quarantines.
These digital technologies will have a long-lasting impact on post-COVID-19.
Stay Safe, Follow Social Distancing!