An Overview of MCA Portal 
The Ministry of Corporate Affairs (MCA) has an official "MCA web portal" (www.mca.gov.in) which provides several facilities for LLPs and companies, i.e. from incorporation to closure. It is the one-stop destination to find all the details related to companies. It is easy to access for the public, professionals, partners, directors, regulatory authorities, companies and LLPs. In this article, we will cover everything related to the MCA "login portal". 
Here are the tabs you can access in the MCA portal homepage: 
MCA Portal – Homepage 
The following sections are available in the home page of MCA portal India – 
News & Important Updates

Quotations & Tenders

Notices & Circulars 

Stakeholder's Corner

Newly Issued Forms and FAQs

Frequently used guides and acts 

"I Want to" section where a few services available to the user

Official links to several government portals 
Home-page tab looks like: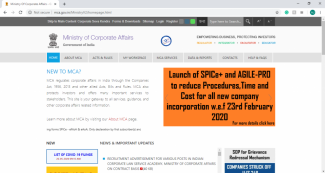 About MCA Portal
In this page, you will find complete information related to MCA which also has details regarding the main functions of MCA and other information about the ministry. You can find the following links in this tab – 
Introduction about MCA

Vision document 

Organogram 

MCA Induction Material 

Citizens Charter 

Unified Manual of MCA

Results-Framework Document 

Affiliated Offices

Right to information 
About MCA tab looks like: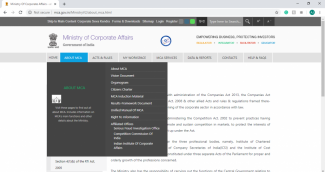 Acts & Rules of MCA 
This tab consists of all the rules, acts, circulars, and accounting standards to name a few. Here are the links in this tab – 
Insolvency and Bankruptcy Code, 2016

LLP Act 

Companies Act

Partnership Act 1932

Competition Act 2002

Cost and Works Act 1959

Chartered Accountants Act 1949

Societies Registration Act 1860 

Companies Secretaries Act 1980 

Accounting Standards 

Companies Act 1951

Other Circulars
Act & Rule tab looks like:
My Workspace at MCA Portal
The person has to visit MCA portal for ESIC registration to login either as a business or registered user. 
A registered user can use "

MCA portal login"

for basic e-services. 

On the other side, other functionalities are provided to a business user along with basic services. In this category, users should have a DSC for "MCA front office portal login"

. The practicing members of ICWAI/ICAI/ICSI and people related to companies can avail these services. 
It requires contact and user details and the user has to create a login in the predefined format to register. After MCA portal registration, the "My Workspace" tab will be activated with user and password. Once the user logs in to "MCA portal India", they can avail the following services – 
Make payments

Upload e-forms

Annual e-filing 
The users of e-form window can submit the ROC form which is already submitted after paying the charges or a fresh ROC form in the upload section.
My workspace tab looks like: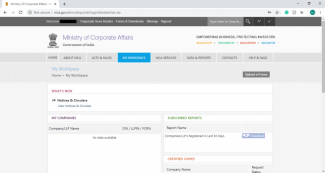 MCA Portal Services 
This tab consists of a lot of services. However, it requires users to register on MCA portal to avail a few of them. Here are the services provided by MCA portal –
Section
Services Available
Section
Services Available
DSC Services

Acquire DSC

Company Services

Check Company Name

Associate DSC

Find CIN

Update DSC

SPICe+

DIN Services

Apply for DIN

Incorporation

Enquire DIN Status

Compliance Filing

Verify DIN PAN Details of Director

Approval Services

Master Data

About Master Data

Change Company Information

View Company or LLP Master Data

Web Information Manager

View Index of Charges

Informational Services

View Signatory Details

Close Company

View Companies/Directors under Prosecution

Complaints

Create a Service-Related complaint

View Director Master Data

Track Service-Related Complaint status

View Designated Partner's Details

Create Investor/Serious Complaint

Advanced Search

Track Investor/Serious Complaint Status

LLP Services

About e-Filing for LLP

Feedback / Suggestions

Check LLP Name

Employee Grievances

Find LLPIN

Document Related Services

Get Certified Copies

Incorporation

View Public Document

Annual e-Filing for LLP

Request for Scanned Documents

Change LLP Information

Fee and Payment 

Services

Close LLP

Enquire Fees

LLP Services for Business User

Enter/Update Partner Details

Pay Later

 

Enter Form 3 Or Form 3&4 Details For LLP Filing

Link NEFT Payment

 

Verify Partners Details for Filing Annual Return

Pay Miscellaneous Fee

e-Filing

Forms & Downloads

Pay Stamp Duty

LLP Forms Download

Track Payment Status

Company Forms Download

Generate SRN For Offline Payment

Upload eForms

Investor Services

IEPF-5 & Track IEPF-5 SRN

Download Submitted Form For resubmission

ID Databank Registration

Individual & Corporate Registration

Check Annual Filing Status

Track SRN / Transaction Status

 

Upload Details of Security 

Holders/Debenture

Holders/Depositors

Address for sending a physical copy of G.A.R. 33

 

Update subsidiary details

Notices under Sec 248 & Public Search of TradeMark

 
MCA Service tab looks like: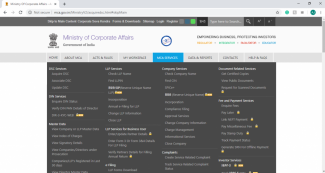 Data and Reports of MCA 
A user can avail all the details about MCA in this tab and reports having LLP/company details and company stats published by the Ministry of Corporate Affairs. Here are the reports available in this tab – 
Library 

Annual Reports

Research Paper Series 

Report on Nidhi Companies 

Other Reports

Monthly Information Bulletin 
Company/LLP Information 
Closed/Incorporated during the month

Master Details 

Based on Ownership

Based on Activity 

List of LLPs filed Form 24

Forms filed under FTE

Under Alert
Company Statistics 
Paid-up capital Reports 

Indian and Foreign Companies 

CSR Data and Summary
Data and Reports tab looks like: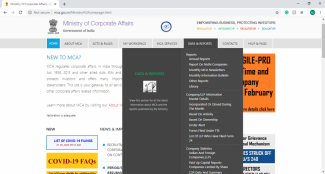 MCA Important Contacts
All the important contacts related to MCA are provided in this tab. Here are the contacts available – 
Minister Of Corporate Affairs

Minister Of State For Corporate Affairs

List Of Officials At Headquarters

List Of DGCA Officers

Regional Directors

Registrar Of Companies

Official Liquidators

Cost Audit Branch (CAB)

Nodal Officers

Liaison Office For SC/ST/OBC

Staff Grievance Officer

Web Information Manager
The Contact tab looks like: