New Delhi: Marg ERP Ltd's Chairman and Managing Director Shri. Thakur Anup Singh was awarded the Udyog Rattan Award– 2019 by the 'Institute of Economic Studies' for his exceptional work in transforming the Indian industry landscape how MSMEs can accelerate their business using technology.
The seminar held on October 19, 2019, at India Habitat Center, New Delhi and was packed with countless moments where industry leaders and scholars shared their intriguing views and beliefs. In this exclusive session, Thakur Anup Singh, CMD Marg ERP Ltd., shared his esteemed opinion & observations on 'Better industrial Growth for MSMEs'. Progressing on the road to growth, he also presented his idea of expansion and the milestones Marg has set to achieve in upcoming years.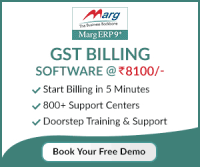 The "Udyog Rattan Award" was presented to Marg ERP Ltd. in recognition of its highly esteemed contribution through outstanding dedication towards the industrial development in India, by bringing technological innovation among 2,50,000 SMEs and are geared up to increase this number to 6,00,000 in the next few years. 
Marg ERP Ltd., pioneer inventory management software for Pharma & FMCG Sector and second-largest player in providing accounting software in the country is looking to strengthen its foothold with peers and leaders to make India sparkle in both sector and the Udyog Rattan Award is a recognition of its efforts. 
The Udyog Rattan Award presented every year to Indian citizens, for outstanding contributions to the economic development of the country. The award is conferred by the Institute of Economic Studies, India (IES), affiliated to the Government of India. Nominations are suggested by the existing members, and absolute care is taken there is no favoritism. Usually, there are hundreds of nominees and it takes several weeks time to shortlist & finalize the winner. The winners are selected by a panel of judges who are usually eminent citizens with economic backgrounds. 
Marg ERP was started with the dream to work closely with MSMEs in the country and use the technical knowledge to create value & growth proposition from small to medium enterprises. Marg ERP believes that MSMEs are by far the richest pool of talented entrepreneurs and ideas.  The key business technology & ongoing trends in a holistic manner will definitely deliver results in a fast-paced environment. 
Marg ERP is committed to serving the MSME Sector and increasing the presence by strengthening the core to help the customers in a better way. Beyond knowledge and opportunities, Marg ERP has been closely associated with partners. Such a strong partner network helps to share ideas among small businesses, understanding their challenges and providing solutions heading towards economy & business growth.