An invoice is a document that is given by the buyer to the seller after making a successful product or service sale. It includes all the costs of products, services, taxes that the buyer needs to pay to the seller. The invoice also serves as a legal document with the name of the customer & seller, description of price & terms of payments.
As discussed, an invoice is a simple document with a list of all products, price descriptions, tax breakups that establishes an obligation on the buyer to pay the seller for the purchased goods or services. An invoice is also referred to as a bill in general terms. A bill or invoice can be easily generated by billing software ready with GST. In the market, there is n number of billing software available for invoice generation. You only need to pick the right one.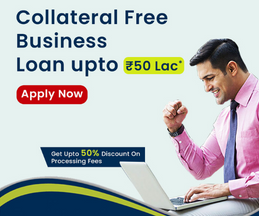 What is the Definition of Invoice
As defined by the
Oxford English Dictionary
, the term
'

invoice

'
is
"a list of goods sent or services provided, with a statement of the sum due for these; a bill."
Invoice is a crucial document for every business because invoices enable the business to get paid for their varied services. In simple words invoice meaning is a legal document served by the seller to the buyer to get paid for the purchased goods. Invoices serve an important purpose for both the seller & the buyer. An invoice helps expedite the payment process by providing a reminder to the customers. For customers, the invoice acts as a record of an expense than can be later reconciled by the books. The most common way to get started using an invoice is to use invoice generation software. Invoice software had predefined invoice templates that make it easy for you to design beautiful business invoices. Using an invoice template & invoice software saves your time so that you don't need to repopulate the same information every time you generate an invoice. For your benefit,
Marg invoice software
provides easy to use invoice templates.
For what purpose Invoice is used?
For business accounting invoice is used as a source of legal document. Invoices are useful for maintaining a record of sales transactions a business makes. Invoices may be used for a variety of purposes, such as:
To keep track of sales
To forecast future sales using historical data
To request timely payment from customers
To track inventory, for businesses selling products
To record business revenue for tax filings
What are the Functions of Invoice?
Businesses need to give invoices in order to demand payments. An invoice is a legal document abiding the customer to pay the said amount. It has some other functions, such as:
Maintaining Records
The most important function of an invoice is to maintain legal records of each & every transaction. With an invoice, you can easily identify the seller, buyer, date of transaction etc.
Tracking of Payment
An invoice is an important tool for accounting. It helps both the seller and the buyer to keep track of their payments and amounts owed.
Legal Protection
An invoice is a legal document that acts as proof of transaction between the seller & the buyer on a described price. It protects the merchant from fraudulent lawsuits.
Tax Filing
The Invoice also helps in proper tax filing. The company can maintain records of sale invoices & ensure the proper amount of taxes are paid.
Business Analytics
Analyzing invoices can help businesses gather information from their customers' buying patterns and identify trends, popular products, peak buying times, and more. This helps in effective market forecasting.
What are the different types of an invoices?
There are various types of invoices that you (as a business) can send to your customers:
Standard Invoice
Pro forma Invoice
Commercial Invoice
Credit Invoice
Timesheet Invoice
Retainer Invoices
Recurring Invoice
Expense report
Interim Invoice
Final Invoice
Past due Invoice
E-invoice
An invoice number also referred to as invoice ID is a unique number that's assigned to each invoice. The invoice number is a crucial invoice element because it allows a business to easily identify and refer to individual transactions with clients.
An invoice ID can include both numbers and letters. The Invoice ID system ensures that you don't assign an invoice number more than once.
What are the elements of an Invoice?
The elements of the invoice may vary from company to company based on the requirements of the business. A good invoice includes the following elements:
How does an Invoice look?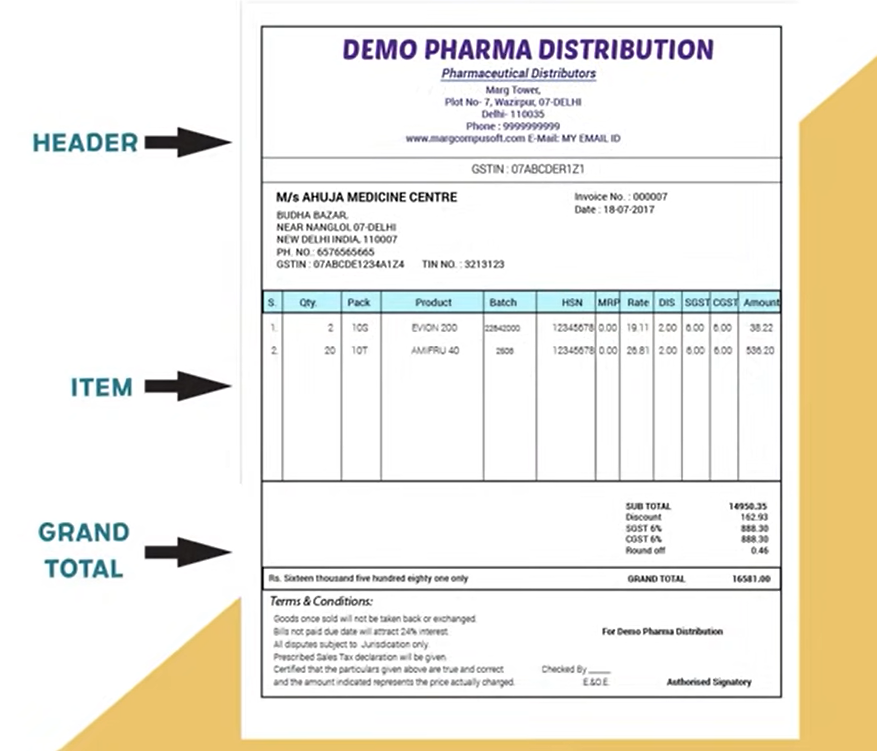 How to generate an Invoice?
To generate invoices for your clients, you can create and send an invoice using modern invoice software. You must generate the invoice & send it to the customer as soon as you've completed the sale. That way, you can receive payment as quickly as possible. Make sure your invoice includes all the details your clients will need to pay you, including your business name, the invoice due date and the total amount due. Marg Invoice Software lets you create beautiful invoices in a snap of your fingers.
What are the Advantages of Invoice Software?
Apart from generating invoices, there are a few advantages also for using invoice software. Let us discuss the advantages in brief.
Invoice software
helps to streamline your accounting and financial processes by automating important tasks.
By doing so, you can:
Reduce expenses by cutting staff costs in the invoicing and billing department
No need to follow up and chase for late payments
Improve your cash flow with faster payment
Improve security by reducing fraud
Offering faster error resolution to enhance customer satisfaction