The COVID-19 pandemic has disrupted Indian citizens and industries in an unprecedented manner. In order to deal with the CoronaVirus, India's prime minister ordered a countrywide lockdown of 1.3 billion people. And with the increase in corona positive cases, the government extended the lockdown. Now it's time to unlock. 
While essential items, such as vegetable stalls, grocery stores, and medical shops were open for a certain time period during the lockdown which was creating problems for offline retailers and distributors as they were incompetent to generate and receive the order due to lockdown.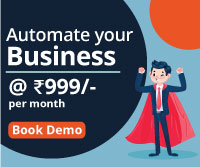 Most of the people are still panic buying which makes the retailer unsure, how much stock he keeps and when he should generate the next order. You need to plan supplies for each situation and sync up with your vendors to implement technology in your business operations which helps in soothing the process. 
How Online Software can help you in this situation?
For all the retailers and distributors this is the best time to invest in the technology, to reach your regular clients as well as get the new customer so you can fulfill their regular demand.
There are many software you can go for but the most important software you can go for;
Retail Software for your inventory, accounts, and other management.

POS Software for easy Billing.

Retails ordering Apps for online ordering, remote working and dispatch management.
The most difficult task of the businessman is to track the inventory and how fast he can refill it, which makes proper outflow and inflow of the products. This software does the same thing for you with the help of the internet, track your inventory, allows you to check details online, do order online, track dispatch, etc.
Let's discuss all the software and Apps in detail. 
Retail Software
Retail software is simple and easy to use all-in-one solutions for regulating pricing, calculating taxes, inventory management, etc for small to large stores. 
Features of Retail Software
Let's discuss the features of Retail Software that can help you to do seamless and consistent business operations, in the current situation.
1.
Inventory Management:
You can keep track of new orders, manage inventory levels, handle inventory, store inventory and sell inventory, and keep track of expiry date and time, etc.
Easy & Fast Billing:

You can easily generate batch-wise invoices, print bills in different formats.

Reporting:

You can easily generate any report related to sales, purchase, product wise, vendor wise, etc.

Home Delivery:

This feature allows you to collect orders online and provide goods at the customer's place.

Billing Management:

You can generate barcodes to quickly & accurately track products for easy bills and you can also add multiple cashiers for fast billing.

GST filing:

With all the generated reports you can log into the GST portal and directly file GST returns through the software.

E-Bill:

You can easily generate E-way Bill after registering on GST Portal, Electronically upload B2B invoices and Export invoices, and Credit/Debit Notes.

Order Calling:

Eliminate the need to type the customer's contact number to place calls and receive orders by scanning the QR Code.

Auto-Bank Reconciliation:

It allows an auto-Bank reconciliation facility with 140+ Banks.

Sales Analysis on Google Maps:

You can track your sales through google maps Filter the data based on Date, Route, Company & Salesman wise.

Backup:

You can easily upload your data to the cloud and allow you to access it from anywhere.
 POS Software
POS software is the new generation of a computerized system that keeps track of customer orders, billing, promotions, accounting, reporting, inventory management, and much more.
This can be easily integrated with any system including multiple printers to enhance your business experience.
Why should you integrate Retail Software with POS?
Your basic software can do all the important work but need to understand why you should incorporate POS software with your regular software, it helps you to deal with a system which is slightly different:
 

One-click information:

It helps you to immediately access the details of customer data, order history, and product search which help you in fast billing.

 

Managing ledger:

It lets you know the balance in your ledger and provides the necessary reports to maintain the flow of cash for your business.

 

Risk Reduction:

The data you entered with the help of bar code or through any other method, makes sure that the data is recorded accurately in both the systems.
Features of POS Software
POS software supports all the features we discussed above like track customer orders, billing, promotions, accounting, reporting, inventory management, barcode, smart purchase, discount & schemes. But the most important features are;
Touch Screen:

It allows you to set multiple billing counters with a touch screen which helps you to do smart billing with fast search of any product, one-touch add product features and many more depends how much you can customize.
Retails ordering Apps
Start accepting your Orders online from anywhere and anytime with the help of an App, which will help you grow and manage your business more efficiently.
Retail ordering apps help to ensure that the dealer will get the regular order of vendors during the COVID-19 lockdown, as the Retail apps and software are integrated through the online platform it allows retailers and salesmen to generate orders online and the dealer gets all the orders based on real-time.
e-Retail:

the

e-Retail app is for retailers so they can place orders from the e-Retail app to their suppliers or distributors online

.

All these orders will be shown in the Software.

e-Ordering:

eOrder is the app that is created to facilitate salesmen & distributors. It generates orders from retail customers with the help of the internet. All these orders will be shown in the Software.

e-Owner:

It helps the distributor to view the business reports and track the salesman.
Features of Retails ordering Apps
Retailers and Salesmen can place orders to the distributor, search products, and track orders.

You can do a search based on distributors, product or company for the order.

You can get the real-time status of your order.

Stock Dashboard & Reports, Generate Bill, check your outstanding, add multiple distributors. 
With all these advantages you can easily manage and cope up with the basic problems that arise on a daily basis due to Lockdown. Marg is offering all these software and apps with added features to make your business operations easier. Please visit the Marg website https://www.margerp.com/ for more information and offers.