The FMCG industry in India was the most dynamic and fast-paced industry but the COVID-19 pandemic has changed and disrupted the way of working. People are staying at home, and only come out to buy essentials products due to a nationwide lockdown. This hampers the supply of distributors who are still doing business with the software which are incapable to do multi-app integration which helps them to collect orders online or those who still depend on the third person for getting orders and record the things with manual methods.
For this type of distributor, they need to start using Marg ERP which is the leading software application for the FMCG distributor with many integrated features.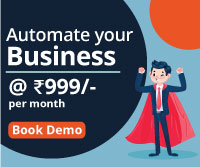 Why should I use Software?
Technology has certainly become an important part of the FMCG industry and FMCG distributors can standardize their operations by incorporating technology in their business operations occurring on a day-to-day basis.
As technology makes the supply chain and customer relationship more effective, you have to integrate technology into your business to make the Supply Chain more efficient. Therefore, it's vital to choose the right FMCG distributor Software for your business.
FMCG Distributor Software
FMCG Software is designed to handle all the operations of your FMCG business, and help you to automate your sales processes and improve on-field productivity which helps to track real-time sales, inventory, salesman reports etc.
As per the current situation you must use this software to do your business operation fast and easily.
In this article, we talk about the main features and benefits of FMCG distributor Software that can provide a seamless and consistent business experience, and it also can help you to do the business in this pandemic situation.
Features of FMCG Software
There are several features FMCG software can provide, but here we are discussing only the important features you need the most.
 1.
Inventory Management
Inventory management is a very important function that keeps track of new orders, handling inventory, storing inventory and selling inventory etc. With the help of FMCG software, you can maintain your inventory without any hassle and you don't need staff to manage it.
Maintain Inventory:

With this feature, you can manage your inventory based on the price and weight of the product.

Track of Products:

If you apply for the expired report, the software will automatically show the product which is going to expire so you can clear the stock or return the product.

Stock Management:

With this software, you can check where you kept the product through Rack Management and how much stock is left.

Multi-Unit:

This software allows you to create multi-unit products like 10 packets will count as 1 unit in some offer and you can make a bundle of products like 1+1 add on offers.
 

Customer & Sales Management
Sales & Customer management helps to create an easy workflow, coordinating sales operations and get all the feedback instantly which can help to track different sales reports which help a business to work more effectively.
Salesman work details:

This software allows to check the sales of an individual employee how much order he is generating, which can be seen as consolidated or the product-wise or shop wise, the distributor can check any type of order details.

Salesman Report:

It helps to check the performance of the employee through his performance report.

Sales Analysis:

With the help of different reports like Fast & Slow-moving goods you can easily track what product is in high demand and what is not doing well.
Billing
The billing system allows different modes and schemes which can be very helpful for the distributors.
Billing Format:

This software allows you to print your bill in different formats according to your need or demand.

Scheme Management:

It also allows to create different schemes on the basis of party, amount, area etc.

Points System:

This software also offers the feature of coupon and loyalty point scheme, for their regular buyers or to attract new customers and maintain the order flow.

Payment:

It allows collecting payment in multiple modes like cash and cheque etc. You can also collect One Bill amount in different modes.

Bill Dispatch Management:

It also allows creating a proper chain of order to dispatch management, so you can easily check what goods are dispatched and what is going to be dispatched.

 

Add on billing features:

There are some add on features related to the billing area; cashier support, cash drawer, weight machine etc.
Account Management
This feature is the most important as the basic work of all the accounting software is to do accounting and generate reports.
Invoicing:

It allows Electronically uploading B2B invoices authenticated by Invoice Registration Portal (IRP), generating E-way Bill.

Accounting:

It does all types of accounting work like; Profit & Loss, Daily Transaction Summary, Balance Sheet, Ledger and provide all important things which can be useful for accounting.

GST Filing:

With all the accounting work done by the software, which makes it simple to do GST return with the JSON or CSV file.

Credit Limits:

You can Set customer credit limits as well as Track outstanding amounts.
APPs Integration
App integration with the software allows the distributor to do business operations more effectively like get online orders, track salesmen etc. Currently, these features can be very useful to all kinds of distributors.
e-Ordering:

eOrder is the app that is created to facilitate salesmen & distributors. It generates orders from retail customers with the help of the internet. All these orders will be shown in the Software.

e-Retail:

e-Retail app is for retailers so they can place orders from the e-Retail app to their suppliers or distributors online

.

All these orders will be shown in the Software.

e-Owner:

It helps the distributor to view the business reports and track the salesman.
Add-on Features
There are some features that are not as important but it increases the productivity of any distributors. These features are;
Auto-Cloud Backup

Data Security

Integrated Banking
Benefits of FMCG Software
Streamline transaction processing:

With the help of an automated process, the workflow can be very smooth.

Increase efficiency and minimize data collection errors:

With all the online processes it reduces the chance of error and increases business efficiency.

Improve inventory management:

With all the necessary updates related to inventory, you can easily manage your inventory. 

Sales reporting and analytics:

It allows you to view any report just with simple clicks.

Easily manage vendors:

It helps to manage the vendors easily and effectively.

Reduce Cost & Save Time:

The most important benefit of this software is it reduces the cost of expenses and also saves time.
As we have discussed all these benefits and features you need in the FMCG software which can be more useful in the present situation. If you are looking for FMCG software then I will recommend you the Marg FMCG Software which is one of the most popular software in the FMCG Industry.
Marg offers all these features in their FMCG Software and due to lockdown, they are also offering some special benefits in the Retail Ordering Apps. Please visit the Marg website www.margerp.com for more information and offers.