One of the biggest misconceptions new businessmen fall for is that an inventory management software is designed and developed only for big-giant companies and will cost them huge bucks if they plan on implementing it in their business which they can't afford.
However, the truth is,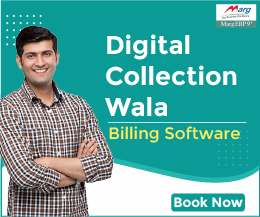 "Implementation of a business software solution is not an expense; it's an investment."
In fact, this statement is even more accurate and precise when your software manages your billing, inventory, accounting, and taxation as well; ensuring significant growth in your business. 
Misled by the fallacy based on assumptions, many businessmen fall into pitfalls even lose hope to compete in the market. Staying in the competition with old/big brands is not a tough row to hoe with the right business strategy and an inventory software, customizable according to the business needs.
In this blog, we will unveil some of the striking features that your inventory software must have to fulfill your dream of having a profitable business. 
Collaborative Commerce:

The term 'Collaborative Commerce' is basically used for a tool inbuilt in the software

to import invoices from the distributors' system on the basis of GST number or eBusiness code

. To enjoy extreme benefits of this time-saving feature, operators have to activate online purchase feature in their software. After activation, whenever the supplier generates a bill, it gets automatically uploaded on the server, and the retailer could easily download it. 
Click here to learn how to activate Collaborative commerce in Marg ERP 9+
     2. Push Sales: As the term suggests, 'Push Sales' refers to the identification of the best ways to improve sales at the time of billing of items. This option observes a customer's buying behaviour and displays a list of items at the side of the billing screen of the operator that the customer might be willing to purchase. These noteworthy items include:
Focused Items i.e. those items which the distributor, supplier, retailer or any businessmen targets to sell the most. Focus items comprise- 

Items with high-profit margin

Items available in stock in large quantity

Item in demand because of seasons or festivals

Dump Items i.e. those commodities/ items that have not been sold for a very long time.

Near-Expiry Items i.e. those products that are near their expiry dates and can't be sold if the expiry date exceeds.
Click here to learn how to take maximum benefit of Push Sales in Marg ERP 9+
    3. Connected Banking: Wouldn't it be great to enjoy banking facilities integrated in your software. Even though, every businessmen are wearing so many hats today; they can track the cash flow in their business from within their software in a few clicks. With an integrated banking solution, a businessman can make bank transactions via. NEFT, RTGS, Bank Transfer, GST Tax Payment, etc. He can also schedule his payments and Reconcile Bank-statements automatically.
Click here to learn about Connected Banking
    4. Suggested Item: Involving smart moves in the business ensure rapid growth in business with suggested item option, the salesperson can sell related items to his customer which he might be looking for and increase his sales. For example: If a customer purchases an item 'Mobile', then a list of products related to the item Mobile will be displayed on the billing screen like Screen-guard, flip cover & phone case.
    5. Alternate item: Watch your productivity soar by selling alternate items. Using an alternate item feature in your inventory software, the user can define multiple substitutes in the item master and can search for items as per defined substitute at the time of billing. The suggested product list is displayed on the right side of the dashboard on the selection of any item. This feature will also assist in inventory management & timely re-ordering of products.
Conclusion: In the aforementioned information, you learned about all the features that you must have in your inventory software, only and only if you wish to compete in the growing market and reduce your loses to zero. We assure the presence of these extremely productive features will help you to escape the rat race and lead in the competition which you always dreamt of.