Get Free Website with Marg
Marg ERP is giving the ultimate opportunity to small & medium size business owner to take their Business Online. Reach more customers, generate more profits with Free personalized SEO friendly website worth Rs. 5000. Now, the user can set up their own online store, create digital catalogs & 'Go Digital' with Marg ERP. It is a simple process, you only need to install Marg ERP software for your business, and Marg will provide you with a free website. You will be able to reach more customers. Integrated with Marg Pay. Marg ERP also offers a digital payment & collection facility to businesses & is completely free.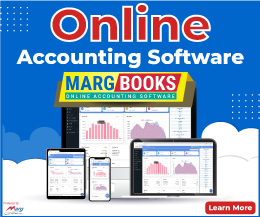 If you also, want to Go Digital, Marg ERP is the best solution for you.  

Managing payroll is efficiently and effectively is crucial for small and medium businesses because the salary of employees and the taxes of the government both are related with it. Lots of time and manpower is wasted in manually figuring out taxes, retirement benefits, and hours, along with generating monthly reports etc. still there remain possibilities of errors.
Good payroll software makes this management lot more easy, efficient and effective. It not only helps in increasing the morale and productivity of employees but also helps in paying the appropriate taxes on time.
In this article we briefly discuss how good payroll software benefits small and midsize businesses.
• It gives you the easiest way to manage leaves, absences and overtime. In a glance you can see how long employees are away for, how much leave they are entitled to etc.
• It works as a self help desk where employees can request leaves online and so it can be granted. It makes manpower management lot easier.
• Payroll software allows you to quickly and easily generate payslips for all your employees and ensures the statutory minimum amount of information is included.
• Different reminders help the user avoid important tasks and to get them up to speed when they sign in to the software.
• A right payroll management solution mitigates the chances of mistakes and also saves a lots of time which can be invested in other productive work.
• These software are easy to manage. Anyone with a good understanding of IT can manage a company's payroll requirements effectively. This is good for smaller businesses that want flexibility.
The GST law is ready to come in force. A large number of small businesses those were out of tax regime will come under GST. Payroll software helps you in being tax compliant by notifying you when updates arriving and doing automatic calculation.
A rapid digitalization of Indian economy is taking place. For small and medium size businesses digitalization brings about various benefits like Customer Acquisition, Operational Efficiency, Workforce Enablement, Risk Management etc. It has become impossible to stick to traditional methods of doing business.
The Dilemma of Small Businesses
Despite this whole lot of benefits, small businesses remain in doubt of what is more cost effective for them: manual management or software solution. Businesses with small capital hesitate in opening one more window of expenditure which hinders their growth.
Marg comes up with Solution:
The key focus market for Marg Compusoft has always been the most versatile segment of SME, MSME, Retailers, Distributors and Manufacturers who have immense business potential in India but are still under served.
Driven by the vision to ''make technology available and affordable to all" Marg Compusoft comes up with most affordable payroll software solution for small and medium size businesses. Marg's HRXPERT has been developed keeping the needs of SMEs and MSMEs. Starting with just Rs.7200, imbibed with latest features the HRXPERT caters to all the needs of SMEs and MSMEs and helps them adopting latest technology to gives wings to their growth.