Manual Stock Takes and Excel Spreadsheet are some basic and old ways which are used as the Inventory Management System. Now people should know about the developed process of tracking and controlling stocks. Here we are going to discuss every single aspect of the Inventory management system.
What is an Inventory Management System?
Today the rapidly growing businesses and companies are using the developed Inventory Management System to keep track of forecast demand, inventory levels, and much more. The inventory system is an organized system by which you can track your stocks or goods throughout your entire supply chain (from purchasing to production and till the end sales). The inventory tracking system provides information about how you approach inventory management for your business.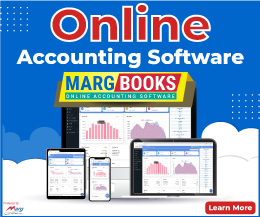 What Features Marg Inventory Management System Provide?
Marg inventory management system helps you to organize and detect:
Tracking inventory and optimization of capabilities

Warehouse management

Invoicing and Orders

Reporting tools

Customer relationship management

Batch tracking

Barcoding

Price lists

Demand forecasting

Contains integrations with other business software such as accounting 3PL, eCommerce, Shipping, POS, manufacturing, etc.
What is The Difference in Between Periodic & Perpetual Inventory Management System
There are two major types of an inventory management system which the companies use these days.
Let's understand it.
Periodic Inventory

This is a defined way of managing stocks that is dependent entirely on stock collection. Businesses following the periodic system of inventory management keep an eye on their stock count regularly or at the interval of 3 to 6 months. This helps to verify the stock accuracy to detect whether the stock count matches up to the sales figures.
Perpetual Inventory
Perpetual system of inventory management helps to keep the most up-to-date inventory figures and limit the requirement of stock count for accuracy. This system helps in the tracking of stock levels as goods are purchased, produced, sold, or returned to the store.
What are The Benefits of Inventory Managemet System?
By grabbing the best Inventory Management Software by Marg Compusoft, you can benefit your business by enabling:
Provides accurate order and inventory tracking- When you have a systematic inventory management system, you will not face problems like overstocks and stockouts.

Helps in customer satisfaction- this system helps in reducing the time gap between ordering and serving of product to the customer, which helps to build customer's trust in your company.

An operational efficient system- Inventory management systems perform many tasks which are more accurate, efficient, and cost-effective, as compared to manual labour

Improves transparency- Inventory software works as the single source of information of inventory, which improves the visibility of data across the staff and customers.

Helps in making the best decisions- It involves the reporting and forecasting tools that helps you to make the right decisions for future growth.

Helps to grow your business- Workflows without any issue can be scaled up easily, and hence supports faster business growth.
What are Different Types of Inventory Management System and Their Pros & Cons?
If you are looking for the best inventory software in India, then you should stay aware of the major types of the inventory management system. Below we had discussed these major types and their pros and cons.
1- Using Inventory spreadsheet
Many people are keeping a record of their inventory with spreadsheets like Excel. This inventory management system can be the cause of issues like human errors, easily accessible, and costly. This mode of inventory management does provide the right accuracy and flexibility.
Pros :
There is no need to search and install any new solution as many spreadsheet applications are cloud-based.

It is low in cost

It is easy to set up
Cons:
Generally, doesn't resemble your management needs

Linked with human error

Not easy to scale

Have limited functions
2 – ERP Systems
ERP inventory management refers to an integrated approach to business planning and operations. With the help of an ERP inventory management software free, companies and businesses can efficiently manage the logistics, inventories, operations, and finances. Our Marg inventory software also supports small businesses as these businesses are not able to track the operations with an ERP inventory management system. So, if you are looking for inventory software for a small business, then you should pick up a standard Cloud inventory management system, as a small business doesn't need any additional functions and capabilities.
Pros:
This works as a single system that covers accounting, inventory, supply chain, HR, and more.

Provides greater data security

Provides the ability to handle complex and large supply chains

Helps in advanced location and warehouse management

Affordable in cost
Cons:
Complex workflows

Needs huge setup and training time

Contains advanced functionality which is not needed in many businesses, especially in small businesses
3 – Cloud-based Inventory Management System
This system software doesn't work like the spreadsheet. Cloud-based inventory management software India is a software that is hosted on the internet, in which all the data gets stored on third-party servers.
This software reduces the chance of errors, delays, and other complications, which are commonly faced in the case of spreadsheets.
Pros:
This works as a single source of data which improves the visibility and truth of data across the company's members

It is oriented to perfectly manage the supply chain functions

Get updated according to time

Limited risk of errors

Have automated function for repetitive tasks
Cons:
 

You need a set-up

Costs higher than spreadsheets but more effective
How to Choose the Right Inventory Management System for Business?
Calculate According to the Scale of Your Business




Small businesses don't have a much-complicated supply chain and hence they can stick to the cloud-based inventory management system. While large businesses required advanced systems with the right capabilities.

Consider Your Future Goals and Challenges You are Facing With the Current System




It is important to consider the goals you are going to achieve in the future and the challenges which are becoming the obstacles between your way to these goals. Choose such an inventory management software India, which can help to remove all the complications associated with your current inventory system.

 
Write the Highly Required Features



List down the features your inventory management software should acquire. Some systems also support functions like tracking batch and bundles. Hence choose the software according to its in-built features.

 
Calculate the Amount You are Ready to Spend


It is also important to calculate the amount you are ready to pay. This will also save you from spending on software that is not even needed. There is much free inventory software as well, which you can pick to save your money.

Consider the Mediums or Channels, on Which You Sell


If you are selling more than one channel, then you need software that can handle the data of sales from multiple channels. Choose an efficient inventory management system that can handle complex data in the right way.

Consider the Integrations Required by Your Company
There are limited options of Cloud-based and ERP inventory management software which provides a suite of integrations with applications like providers, shipping, accounting system, logistics providers, etc. Some providers provide custom integrations as well, which you can choose if required.
Also, know That Who Needs Access to Your Data


If you need to give access to data to a large number of people, regularly, then you should pick a Cloud-based inventory management system.

Know if You are Ready for Training/Support


Many inventory management systems need support and training resources as well. You need to choose the right one wisely.
When Do You Require to Update Your Inventory Management System?
Some aspects depict that you are in need to update and acquire an inventory management system. Some of these major aspects are:
When there is a need for more flexibility

When you need more accuracy in the management of inventory

When the costs are growing faster

When there is a slowdown in growth due to the poor management system
So, here was all about the inventory management system. At Marg ERP, we have availed of the free inventory management software demo which will help you with the right management.
Book Demo