What Is EPF?
EPF Commonly known as Employees Provident Fund is a scheme developed by the labour ministry of India in 1952 for the benefits of salaried class individuals. An employer and employee contribute 12% of an Individual's salary and its government provides a certain interest on the amount. Only the employee is entitled to the benefits of EPF. They can use it as a pension or retirement plan or they can take a loan against it in times of needs.
Private and Government both employees are eligible for EPFO Services when they meet certain criteria. If a company has more than 20 employees then they become part of the government saving scheme automatically as per labour ministry regulations. Anyone with access to their employee's provident number can visit the online EPF portal and look into the provident fund's benefits.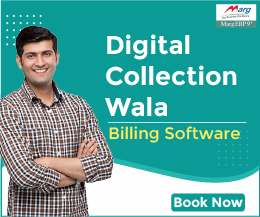 Recently, employees provident fund organization (EPFO) has launched WhatsApp services for the easement and constant updates. You can download WhatsApp services by EPFO through Marg ERP from our payroll software. They have also Introduced EPF WhatsApp number according to different cities and zones for the convenience of both parties.
EPFO WhatsApp Services
The retirement body, EPFO launched WhatsApp services recently for convenience and easy access for the beneficiaries. They have introduced EPFO on WhatsApp in 138 regional languages and have different EPF WhatsApp helpline numbers according to different cities and zones. 
This is an additional facility by EPFO with their other grievance redressal services which includes EPFiGMS and CPGRAMS, online media such as Facebook and Twitter and, a 24*7 helpline number with a dedicated and experienced team of executives.
To additional improve the simplicity of living experience for its individuals, Employees' Provident Fund Organization (EPFO) has now dispatched a WhatsApp based helpline-cum-complaint redressal component, under its arrangement of Nirbadh activities pointed toward guaranteeing consistent and un-intruded on administration conveyance to supporters during COVID-19 pandemic," as said in a statement by the labour ministry.
With WhatsApp arising as an enormous stage for correspondence in India, EPFO has gotten the exceptional open door that the application furnishes to reach and discuss legitimately with every one of its partners. This activity will permit PF supporters to interface straightforwardly with EPFO's territorial workplaces on a customized level clinging to balanced direction guidelines. WhatsApp helpline is presently useful in all the 138 territorial workplaces of EPFO. You can easily find the EPF WhatsApp number on an online portal according to your region. 
Since the launch of Whatsapp Services by EPFO, the labour ministry has resolved many complaints and queries than ever and caters to the various needs of their beneficiaries exceptionally. Any partner can essentially record the complaint or look for direction on any inquiries identifying with administrations given by EPFO, by putting a WhatsApp message on the helpline number of the concerned territorial office where the PF account is kept up. 
In the time of the COVID -19 pandemic, the need for a Provident fund has been in demand and people are using their saving funds to complete their daily needs. Due to the country-wide lockdown, both parties were helpless because of the restrictions on going out and the timing couldn't be better to introduce EPFO WhatsApp services. Committed EPFO WhatsApp helpline quantities of all territorial workplaces are accessible on the landing page of EPFO's authentic site or you can simply download Marg ERP payroll software and get every service related to your EPF and salary and tax benefits on one application. The helpline plans to make the supporters confident by taking advanced activities of EPFO to the last mile, consequently lessening reliance on mediators. 
To guarantee the quick goal of the complaint and answer to the inquiries raised on WhatsApp, each territorial office has been furnished with a devoted group of specialists. The simplicity of raising inquiry and complaint on WhatsApp will decrease the requirement for the supporters to truly visit EPFO's office. Thus, It will help keep up social removal in EPFO's work environment during the pandemic. 
The helpline has just increased colossal ubiquity among partners. Up until now, EPFO has reviewed more than 1,64,040 complaints and questions through WhatsApp. This has prompted a decrease in enrollment of complaints/inquiries on Facebook/Twitter by 30% and on EPFiGMS (EPFO's online complaint goal gateway) by 16 percent. You only need to know your UAN provident fund number for the authentication so that no one else can take advantage of your savings and we also recommend never share your UAN number with any other individual for safety measures.
The helpline is an endeavour to additionally reinforce the immediate channel of correspondence among EPFO and its endorsers amid the pandemic, subsequently improving EPFO's responsiveness and encouraging opportune conveyance of administrations to supporters. To know the balance inquiry or taking a loan against your provident fund, now, you only need to send a WhatsApp on your area's EPF WhatsApp helpline number and within seconds you will be connected with an experienced and dedicated customer executive to help you through the process. As this service is available in all 138 regional languages, it has already become the most preferable and convenient way of communicating and knowing about your hard-earned savings.
Marg ERP is already a trusted and well-established Retail, manufacturing, and distributors trusted website to deal with their all online software and providing easy and accessible facilities to deal with this pandemic situation. Now, their payroll software is also becoming popular among employees regarding their salary calculations, saving benefits, TDS filing and return and EPF management. 
With the launch of EPFO WhatsApp services, they have updated their software for easy access. Now you can get all the advantages of just one website. You don't have to go to the online EPF portal to look for your EPFO Whatsapp number and just simply download and register your UAN number of websites and get all benefits at one platform including the latest updates and services by the employment ministry.