With the implementation of GST around 3 to 5 crore new businesses are expected to get added to the new tax regime. Moreover, there are 80 lakhs taxpayers who are already registered with the present taxation system and will be migrating into GST. The provisions of the new tax law are such that it has become almost impossible to work without the adoption of digital technology and proper accounting software.
Besides the merits of Digital technology, there are even demerits termed as a cyber attack. Therefore, any business organization which is going to buy an accounting software should go for such a software which not only solves his taxation problem but also provides world class cyber security features.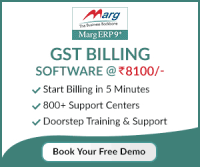 The recent news of cyber attack across the world has made the situation a bit tensed out. Ransomware, a dreadful malware is a major concern for many countries as it is targeting the software of all the companies whether it's an MNC or SME or individuals.
Before proceeding further let's be aware of Ransomware, it's a technique used by hackers that lock user's file and to get it unlocked they need to pay the attackers in the form of Bitcoin an cryptocurrency and a digital payment system.
The multinational cyber security team has said that these attacks is seen encrypted with the extension "WCRY" and could be noticed as infected filenames. In India too the cyber security agency ( CERT-IN) has issued a red alert with the Wanna Cry attack.
A recent report shows that the ransomware has already jeopardized the computers in the Britain's hospital network, Germany's national railway and other companies and government agencies worldwide.
The cyber attack after hitting dozens of countries on Friday 12th of May 2017 has reported hitting more than 29000 institutions in China this morning. The attack is one of the biggest attack ever recorded, disrupting computers that run factories, banks, government agencies and transport systems.
Cybersecurity researchers are already working day and night to find a solution for the biggest cyber attack and for the time being have all the governments of different nations have advised people on how to protect against the dreadful attack of Ransomeware.
Therefore SMEs and MSMEs going for accounting software to mange their accounting after implemenation of GSTshould opt for such acounting software which provides worlds class security features against threat of cyber attack